I believe it's only natural to want. Right? Every time, without fail, when I'm out and about I find big extravagant things that I want to purchase. This time of year we are all taunted with a psychological battle between what we really want and what we actually need.
Take the same challenge that I take each time the season changes. While you are out browsing around from isle to isle take into count what moves you. Why do you like the things you like. Take mental note what your style is, what type things you keep gravitating towards. Purchase the things you need then walk (quickly) out the door. Don't fall into the temptations of the purchases of things you can recreate at home for much, much less.
First things first: What do you love?
This year I fell in love with aged Christmas bells and burlap bows.
The price tag on these babies were outrageous. At around $4 a bell I took the challenge to create a similar product for much less. After shopping around some local stores I found these bells for only 99 cents.
Yes, I realize they are plastic and no were near as cute as the original inspirational bells in all their patina-ed glory. That's nothing a little faux painting wont fix.
To create vintage Christmas bells you will need:
El-cheapo plastic jingle bells
silver liquid guilding
flat black paint
cotton ball
paint brush
rag/paper towel
There is a crafting product that I have had for a long time-silver guilding paint. A little goes a long way with this product and anything you paint with it appears to be metal. I would compare it to a liquid gold/silver leaf.  I imagine it can be found at any local craft supply store. Even if you have a can of silver spray paint, I believe with a little extra faux painting you can get a similar effect.
Using a cotton ball I dabbed the liquid silver guilding onto the bells to achieve a hammered metal look.  This photo shows the difference with only one coat of the product. Looking better already, don't you think?
I then went in with a little dry brushing. With a dry paint brush, very lightly, dab into black paint. Swipe your brush back and forth on a clean paper towel to make sure there is almost no black paint on your brush. With random movements back and forth, concentrating in the holes and crevices, paint your bell. Add a little extra here and there if needed. Remember a little goes a long way.
Allow to dry. I personally don't think that they need to be sealed. Any little nicks and dings will only add to the aged look.
The next thing on my wish list this year is big lush burlap bows. Burlap is a hot commodity these days. However, I can't imagine ever buying it. Check around your local farm and feed stores. Most will give them away for free, or very cheap. Although, burlap is still very affordable if you end up having to purchase it.
To create your own burlap bow you'll need:
burlap sack
scissors
hot glue gun
a piece of string
I started off by cutting away the stitched side. I like the look of the rustic edge with the bold stitching running down the center. We'll use that later.
Cut a strip about 4-5″ wide.
This will give you two strips (If you keep the sack in tact.)
Fold each strip over and glue. Use just enough glue to keep them in place.
Repeat, folding over just slightly more and glue.
Criss-cross the two pieces.
Then tie together, tightly.
Using your cut, stitched piece (from the first step) wrap around the string (just to cover up) and glue into place.
Cut "V's" into the ends and then you have yourself a bow.
After going into my very favorite stock of decorative items (aka: My back yard) I created a beautiful, full and lush, one of a kind Holiday vignette. Would you believe this basket came from a deep freezer? This one was bound for the trash and I got it for free. I adore its shape, size, and metal-locker-basket type look.
Two very easy projects, very little money, and I was able to create something that I love and I think you can do the same! Are you up for the challenge?
I linked these DIY projects up at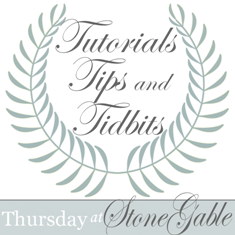 related

posts

» Crafts, Decor, DIY, Holidays, Home, Interior Decorating, Tutorials, Uncategorized » DIY holiday decor

all natural Christmas, faux painting, sleigh bells ring, vintage

« Christmas Gift Guide Giveaway | Mighty Finds Christmas Gift Guide Giveaway | Gibout Toys »